Casino Games-
Hoping to give new and veteran players a chance to unwind. The gracious people of Luna signed a contract to legalize gambling within city limits, albeit not inside the city. Just a short distance outside the southern gate of Luna, you will find the Luna Palms Casino. Wall to wall gaming enjoyment for all adventuring types. From Blackjack to Keno, we've got the bases covered. Sit down, rest your feet and enjoy the hospitality of the Luna Palms Casino. All new players have received a casino token for 10 free uses at the casino, after that, you may use the gold in your backpack, or directly from your bank box. Once you've finished testing your luck, you may cash out and immediately see the banker inside the casino to convert your winnings into gold.
Gambling sometimes brings in very shady characters, and even though Luna is a shining jewel in the empire, it is still subject to criminal behavior. Often seen wandering around the casino, you will find a gambler, down on his luck and eager to make a fast buck. He is tolerated in the casino as he cuts down on the ability of players to go afk while gambling, he will attack you on sight and he's quite good at gaining the upper hand. Adventurers lucky enough to best him in combat can be rewarded with a casino token!
Players looking to try their luck will find several games at the casino to choose from; Blackjack, Keno, Slots, and Hi-Lo, or you can try your luck at the gambling stone. Players can use the ATM feature to withdraw directly from their bank, if funds are available, use their casino token(s), or the gold in their backpacks. You may change the wager amount using the up and down arrows at the top left of the window before you start playing, with a maximum bet of 100 gold.Once you're done playing, simply Cash Out, the gold will be added to your bag, or you'll be given a check.
The Expanse does not encourage gambling for real! This is simulated fun!
---
Blackjack: Also called 21 in some circles, Blackjack has been a favorite at the Luna Palms for many years now.
---
Keno: Think you've got what it takes to pick winnings numbers? You can pick any numbers you wish, or have the game pick from various random number configurations.
---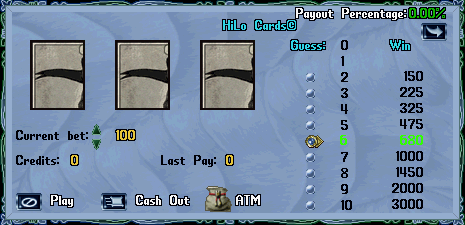 Hi-Lo: Good at guessing games? Simply guess if the next card is higher or lower. Is it really that simple? It just might be!
---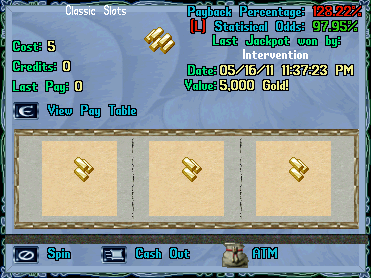 Slots: Feeling like random chance is smiling on you? Give the One-Armed Bandit a try! Payout table is listed right in the window so you know right away if you won or lost.